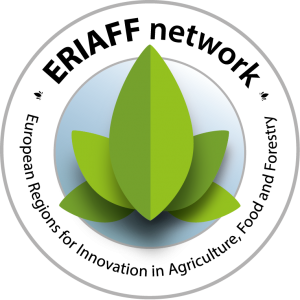 European Regions for Innovation in Agriculture, Food and Forestry
The ERIAFF network was launched on September 19th 2012 in Florence by a core group of 24 European Regions, at the initiative of the Regional Government of Tuscany. The main objective is to strengthen the performance of the European Innovation partnership for Agricultural Productivity and Sustainability (EIP AGRI) by acting as a facilitator for information flow and creation of links among stakeholders across their regions as well as across the European Union and to develop interregional Operational Groups (EIP AGRI) with common priorities and goals.
Operational groups are introduced to gather multiple actors such as farmers, researchers, advisers, businesses and NGOs to enhance innovation in the agricultural and forestry sectors. To that scope, ERIAFF Regions are committed to exchange information about relevant innovation priorities and create synergies through their policy and funding tools.
ERIAFF is an informal network  that allows partners to participate without paying any adhesion fee. Joint activities are selected and operated on the basis of joint interests and/or strong commitment from one or more of its members.
In the course of time, ERIAFF has attracted a growing number of partners, reaching today 71 Regions (41 members and 30 observers).
Priorities have evolved according to relevant European tools and opportunities. Currently, the main activities are focused on the following areas:
S3 AGROFOOD Platform (with two active partnerships leaded by ERIAFF partner Regions: High Tech Farming (Tuscany) and Big Data and Traceability (Andalusia);
Innovation in Forestry and Forest management (with a thematic series of workshops that generated a community of regional stakeholders);
Innovation in water use in agriculture
Restructuring of territorial management and organization in rural areas, assuring a better integration with territorial and metropolitan planning;
The bio-economy and relevant regional strategies;
Funding programmes managed directly by the European Commission, with a special attention to Horizon 2020.
Main working tools are workshops, conferences, study visits and participation to European projects.